SMARTBIOCONTROL - Portefeuille de projets - Plateforme transfrontalière de recherche et de formation pour la promotion du biocontrôle des agents phytopathogènes
BIOPROTECT Project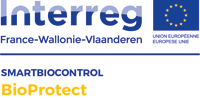 The main objective of this project is to promote the utilisation of biocontrol products in the transboundary region in order to fight on a more sustainable way against diseases in agriculture. Currently, few biocontrol products are used. These products often present a good efficiency in labs, but it's not always the case on the field. In addition, the number of bio-fungicides and biocontrol tools of biocontrol on the market are rare.
The field of biocontrol against plants diseases is not well studied and consequently the knowledge on this subject hasn't progressed sufficiently during the last years. In this project, we propose to:
validate new bio-fungicides and new biocontrol products on several important pathosystems in the transboundary region
increase the efficiency of the biocontrol products available on the market by:

on the one hand, the search of optimal conditions to apply these new biocontrol products and those already existing. Indeed, for a good functioning of these products, certain environmental conditions might play an important factor.
on the other hand, training of farmers in the use of the biocontrol products
The project consists of 6 modules: the first two modules are necessary for a correct progress of the program : it consists in the management of the project and communication activities. The third module aims to synthesize good agricultural practices. The fourth module consists in listing the existing biocontrol products. A literature review will be led in order to understand the efficiency of the studied products. Through this study, modes of utilisation and action of the products will also be listed, the objective being to put into evidence the fields remaining to be worked on. The 5th module includes tests with innovative products on the main cultures of the transboundary region, such as wheat, potatoes, strawberries, vegetables, etc. through these tests, we want to define the most efficient application methods of these products. Therefore, tests on the field and/or under controlled conditions will be realised.
In the last module, dedicated to teaching, the demonstration platforms will also be used to train producers.